Director Tamizhvaanan has tried to play it safe banking on Jeevan's not so good guy image. Just that he has delivered a predictable fare. Sometimes playing safe has its drawbacks as well. Especially when you have a script that seems a little too hackneyed.
Jeevan plays the regular jobless no-good dud - who is a college dropout with a few arrears to be completed - and son of a rail ticket inspector essayed by Vinod Rajan, who played his uncle in Thiruttu Payalae. Jeevan finds himself in the wrong place at the wrong time always, sheer coincidence you are made to believe. It all begins with him trying to help a couple start their bike when they had lost their keys. He only realizes later that he just helped someone steal a bike. Kamna enters the story at this juncture and is witness to the happenings; she goes out to save Jeevan from what could have landed him at the police station. A chain of such events in a few more similar situations makes Kamna fall for Jeevan.
Soon enough, Kamna takes Jeevan home to her textile business family. The family accepts Jeevan and arranges for their wedding, which is stopped by Jeevan's father who questions the family's responsibility of marrying off their daughter to a loser like Jeevan. This is followed by a series of planned incidents to trap Jeevan in the most unlikely of situations. Jeevan soon figures out that there is a design to all this and that it is Kamna's father played by G.M. Kumar who is behind most of these and vows to take revenge. He challenges Kamna's brother to stop their marriage and escapes with Kamna to a safe place. Kumar accuses Jeevan of having kidnapped his daughter and even ends up threatening his father for abetting it. How Jeevan gets away with it and how he wrecks vengeance against Kamna's father forms the rest of the story.
Jeevan carries off his role with ease, except in the song sequences where it is obvious that he isn't comfortable when it comes to shaking a leg, probably the reason why two songs have been shot as montages. It is time he decided to try different roles other than the ones with negative shades; it does seem clichéd. Kamna doesn't have too much scope to perform; the little she is offered doesn't say much of her histrionics either. G.M. Kumar as her father lends credibility to the role. Santhana Bharathy and Kalai Rani as Kamna's paternal uncle and aunt deserve applause for their performances. Santhanam's comedy isn't too funny either, though M.S.Bhaskar and Mayilsamy makeup for it in the latter half of the movie.
The screenplay is not meant for a movie that lasts about two and a half hours as you find that too much time is spent on establishing the characters and it takes quiet a while to take off. Yuvan's music doesn't seem too impressive either. Cinematography by A.Venkatesh blends well with the movie.
The movie starts off sluggishly and gathers momentum in the second half but lacks suspense. Jeevan's witty ploys do appear interesting to a point beyond which it gets predictable. Tamizhvaanan's attempt cannot be written off completely but he could have been bolder in his scene construction than his earlier fare Kalvanin Kaadhali or should we say it was just as good?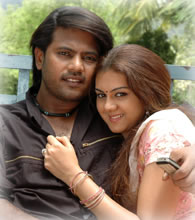 sunshine'z review

actually...possibly..hmmm