It is difficult to understand how Dhanush continues to believe something that is unbelievable.
It is the middle of the night, lit by the yellow of the street lights. There is a clash of knives and blood gushes out. While the camera angles seek out nooks and corners, the souls of 2 men are on their way heavenwards.
There's no confusion about who has done the stabbing. It's our hero Dhanush. He hobbles along on his injured leg, comes to a Pulsar motorbike and says, "This bike is the reason behind all this." This puts the accelerator on the story.
Just gallivanting around town, Dhanush buys himself a bike in order to get to a job. The bike proves lucky as he gets a job. He also gets himself a girlfriend (Divya) with whom he can sing duets. But the love of his life is his bike and when that gets stolen, the story gets its turning point.
It is Daniel Balaji, the villain's younger brother, who has stolen the bike. When Dhanush demands his bike back, there ensues the exchange of blows. Whether Dhanush is alive to tell the rest of the story, forms the climax of the film.
Bugging his friends over Divya's love for him or laughing naively when his dad Murali raises his hand, Dhanush has done a great job in the comedy track.
The minute he gets hold of a knife, he rips apart the villain's henchmen and shows his prowess in the action department. Still, it is comic to see a skinny fellow bash up so many single handedly.
This is the fourth film where Dhanush is doing the role of a character that does not suit his appearance. It is high time he changed his track.
Whenever Dhanush is not fighting, he's singing duets with Divya, whose character in the film as weightless as that of Dhanush himself.
Daniel Balaji and Kishore Kumar are quite suitable in their roles as the new villains of Tamil films. The Malyalai Murali and Bhanupriya provide the sentiment quota. Karunaas, Santhanam and gang add weight to the film with their comedy.
Music by GV Prakash is dull. The background score is passable. The remix of "engeyum eppodhum" is rather lively, but it is not the work of GV Prakash.
Cinematography by R Velraj shows a lot of hard work.
Story, screenplay, dialogue and direction are by Vetrimaran. If you ask if he has said anything new in this film, you are inviting trouble! 'Polladhavan' is indeed an apt title.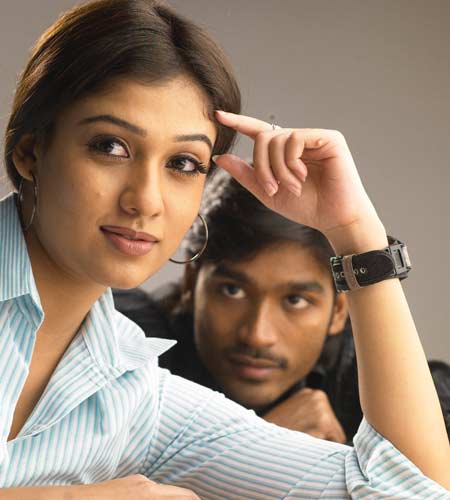 sunshine'z review

Villanz Rockz