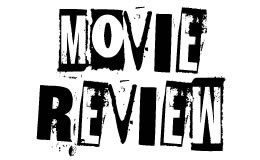 Imtiaz Ali takes an uncomplicated route to tell a simple, old love story. But what sets the movie apart even though there is nothing new by way of a storyline is the director's finesse to stay as close to the plot as possible, never once going off track!
In 1981, Kumar Gaurav was launched in LOVE STORY and that movie was an instant hit. Seven years later, QAYAMAT SE QAYAMAT TAK rocked the box office and heralded a new hero in Aamir Khan. If you compare the two movies, they both were love stories, nothing new. But there was that element of surprise that made both the films stand out. Almost 11 years ago DILWALE DULHANIYA LE JAYEGE created another stir, and continues to do so. JAB WE MET, somewhere, reminds you of the Aditya Chopra film. For starters, the spark of love ignites on a running train with Kareena Kapoor jumping in, reminding one of Kajol doing the same in DDLJ. Thereafter, Imtiaz chugs along smoothly, sticking to a simple narrative to take the movie to its conclusion. And even though the movie clocks two-and-a-half hour, you don't mind because in the company of the fast talking Geet (Kareena Kapoor), time flies.
From Mumbai to Bhatinda to the picturesque locales of Manali, cameraman S Natrajan Subramaniam captures the essence of each place. The music is a winner, dialogues witty and interesting, and the mood just right.
The hype and concern regarding the Shahid Kapur-Kareena break-up and whether it would affect the movie has been hit for a six! A good movie is a good movie and will find its audience no matter what.
The first half belongs to Kareena Kapoor with quite support from Shahid. As the businessman on the verge of committing suicide, Shahid bumps into this chatterbox Sardani, who changes his outlook in life, Shahid gives out a super performance. But even super is Kareena, who talks non-stop. Her mannerisms, facial expressions and body language are all in sync with the character she plays. And when life deals her a crushing blow, her changeover is fantastic. How you yearn for that chatterbox to emerge again.
JAB WE MET focuses on the two central characters and never wavers. The support cast blends in well to do their bit. Like in a dance when a good couple catches the eyes from among a crowd, so it is here with Shahid and Kareena, you fail to notice the others around. The chemistry is simply awesome.
It's a pity, in real life they had to part ways, whilst the film does have a happy ending.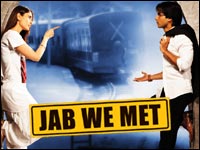 sunshine'z review

sweet and simple